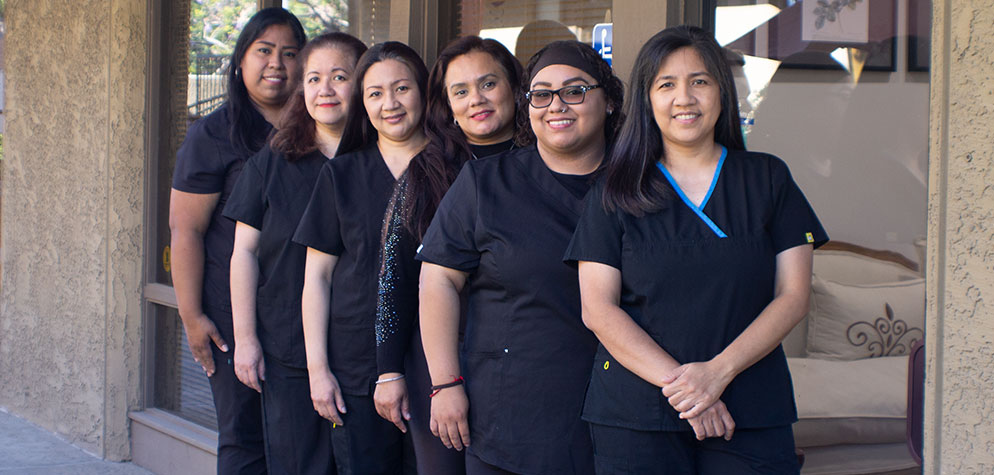 My team is well-skilled, educated, professional, and close-knit. We all work well together and all agree that exceptional customer service is what every patient deserves.
~ Dr. Edith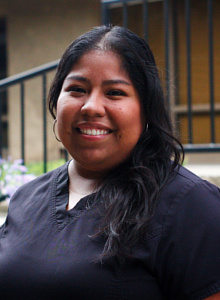 Eda
Office Administrator, Dental Assistant, Biller
I enjoy helping patients and knowing that we made them want to smile again! Dr. Edith is the most honest, sincere, genuine, and nice person I have ever met and this team is incredible. Everyone is always supportive, helpful, and enthusiastic to provide the best care for our patients!
I handle billing and scheduling, along with treatment planning and occasional dental assisting. I have my X-ray certificate, have studied ADA coding, practice management, scheduling, and customer care, and have been with Dr. Edith since 2015
Much of my free time is spent with my family. I am a soccer mom to my son, so that's a lot of my life. I also like cooking.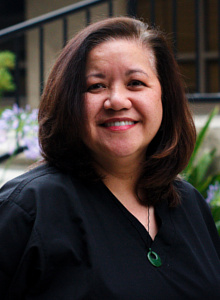 Eden
Registered Dental Hygienist
I like seeing patients achieve their optimal oral health and knowing I made a difference in how they got there. The icing on the cake is when someone expresses their appreciation for what I and everyone here has done for them. We're not just a dental team: we're a family, caring about one another and putting our best foot forward to make our patients happy and healthy!
I handle patient screening, take dental radiographs, remove dental plaque and calculus, and apply preventive material. I also provide education and counseling about proper oral hygiene and nutrition. I started in the field in 2002, have an Associate degree in Dental Hygiene from West LA College, and have worked with Dr. Edith since 2003.
Family is the most important thing in my life, so anytime we get together is when I'm the happiest! I also love gardening, crafting, reading books, watching TV, and traveling.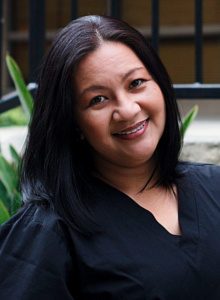 Dina
Registered Dental Hygienist
I love having one-on-one relationships with patients and getting to know each other on a personal level. One of my favorite parts of my job is seeing the positive results of hygiene therapy and education. It's rewarding to work for a doctor and with a team that feels like a big family. We share the goal of maintaining or improving our patients' oral health while providing the best service we can!
I work with patients to address their oral health situations. In addition to routine preventive and maintenance care, I provide supportive periodontal therapy and personalized education and motivation. My career started in 1996 and I joined Dr. Edith and this team in 2001: I was a dental assistant from 1996 to 2004 and have been a dental hygienist since 2006.
When not working I like spending time with friends and family, especially my two beautiful girls, Julia and Jianna. And whether big or small, I love planning surprises for my loved ones, especially my daughters!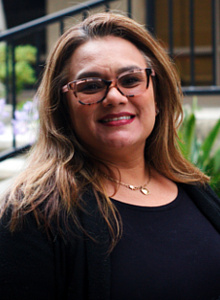 Heidi
Front Office
I love to interact with people, learning why they have come to us and helping them achieve their dental goals. It feels good when they become part of our patient family! I believe in the commitment and care Dr. Edith has for each and every patient and know that is shared by the team. We are an extended family, including our patients!
I work on treatment planning, billing and accounts receivable, and scheduling. I've been in the dental field since 1997, joined this practice in 2019, and have studied customer care, ADA coding, practice management and implementation, and marketing.
Outside the office, I love to cook and enjoy my time with family. With two young children, most of our leisure time is spent at museums, zoos, and amusement parks, and on Sundays, we attend church as a family.
Lizbeth
Dental Assistant
I like that my job is to help people. It's enjoyable to interact with our patients, making sure they are comfortable before, during, and after every procedure, and seeing their healthy smiles! Dr. Edith is an amazing woman who is always willing to help and does so with a smile. She and the team are dedicated to providing the best care to the patients!
I assist Dr. Edith chairside, making sure she has everything needed while also supporting our patient. I'm new to the dental field and this practice, having started in 2021, and I love everything about it. I am a Certified Dental Assistant and hold additional certificates in X-ray, Coronal Polish, and Dental Law and Ethics.
I am a very friendly person who is always laughing. I love to go out with friends and family. I love shopping, traveling, camping, and crafting, but most of all I love spending time with my four guinea pigs. And I love helping people, too.